We have been working with nine other schools in the South and West Norfolk area in a partnership formally known as: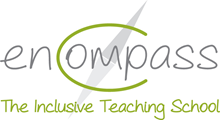 In April 2014  Encompass was designated to be a National Teaching School. This will enhance our involvement with initial teaching training and provide further professional development opportunities for our staff.
OUR INVOLVEMENT IN SCHOOL DIRECT
The Bawburgh School has been a lead school offering School Direct Salaried (SDS) placements across a consortium of schools. We work very closely with Suffolk & Norfolk School Centred Initial Teacher Training (SCITT) to provide high quality ITT which is predominantly school based. Successful candidates will be employed by one of the consortium schools for the period of training, with core training taking place every Thursday at a central location.
 Together we offer those with 3 years' experience of work:
High quality teacher training – SCITT awarded Good with Outstanding by Ofsted 2013
A salary while you train
A blend of teaching experience in schools informed by high quality centre-based training
Training by experienced classroom practitioners
Postgraduate Certificate in Education, Qualified Teacher Status (QTS) and 60 Masters level credits
The opportunity to excel in teaching – last year 67% of trainees qualified with a grade of 'Outstanding'
Very good employment prospects within local schools
Our consortium schools are spread throughout Norfolk – please see list below.  If you have any queries regarding School Direct, then please visit the SCITT website for further information at www.suffolkandnorfolkscitt.co.uk
 
Please note :
Applications should be made through UCAS and not directly to the school
training may not take place in the named Lead School but in one of its partnership schools
SCHOOLS OFFERING SDS PLACES IN OUR CONSORTIUM
The Bawburgh School
Avenue Junior School
Bignold Primary School
Burnham Market Primary School
Catton Grove Primary School
Cringleford  CEVA Primary School
Easton Fairstead Community Primary & Nursery School
Eaton Primary School
Fakenham Junior
Harleston Primary School
Norwich Primary Academy
Scarning Primary School
Snettisham Primary School
St Martin at Shouldham Primary Academy
St Peter's CE Primary Academy
Thomas Bullock CEVA Primary School
Toftwood Junior School