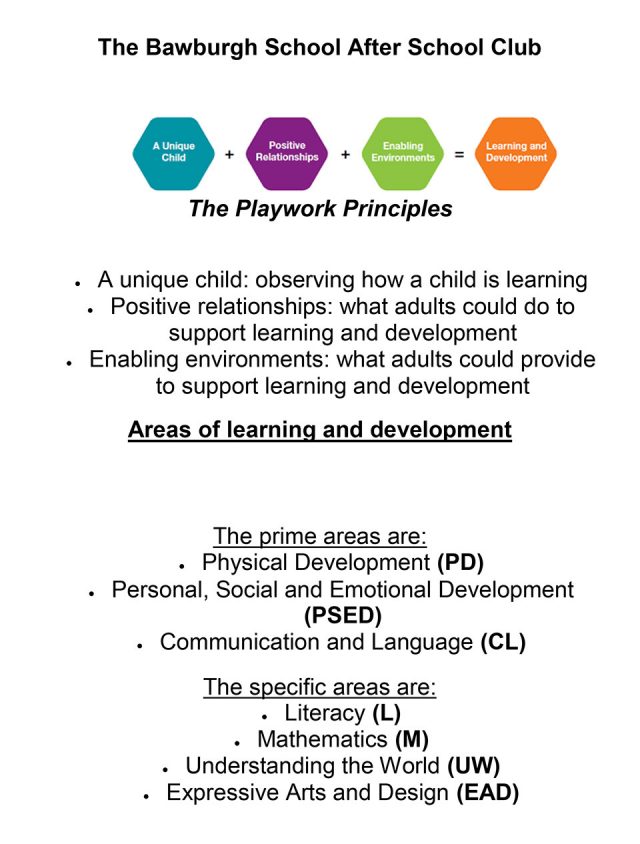 Our Ethos
Our main ethos is that children are always having fun and engaged in different types of activities. We have a strong focus on the play principles and in our care you can feel reassured they will be having fun and engaged in different types of activities. We firmly believe that children learn vast amounts through different types of play. Children learn lots socially being with children of all different ages, seeing children create a game as a group is one of the most rewarding things to observe.
The club provides a caring and fun environment with play opportunities designed to promote personal and social development, physical and intellectual skills and creative achievement.
We follow the Schools behaviour system and reward Gold Stars to those children displaying positive behaviours of both play and learning through JONK. Rewards are celebrated with their Class Teacher at the schools weekly celebration assembly.
We follow different themes throughout the term and organise adult led activities alongside child initiated play. Such themes include, Family and Friends, Celebrations, Chinese New Year, Fairy Tales, Book Characters, Countries, Seasonal and many more……………..
Examples of the activities and resources available to the children are drawing, colouring, painting, cutting and sticking, kinetic sand, salt dough, gloop, play dough, clay, Lego, sewing, sand tray, Ezze beads, board games, computing, climbing frame, ball games, hoops, parachute and lots more……….
During the session your child will be able to have a drink, fruit and any healthy snack they bring along. If they are staying until 6pm they will be given tea.
Mrs Tuma
"My son really enjoys attending The Bawburgh After School club. There is a variety of activities for my son to participate in and he also likes Clive's tea. A big thank you!"
"Our son loves After School Club, so much so he moans on the days he is not in it. He loves the variety of activities, music, craft, construction games and sports. He also likes spending time with children from the other years. The teachers are lovely and I know he is well looked after he is happy, we are happy! It's brilliant!"
"Our son really enjoys After School club. We've always been impressed with the activities that Ms Vincent and Mrs Tuma lead and it has really helped overall with our son's confidence talking to others."
"My son and daughter both love coming to After School Club. Breakfast and Afterschool Club are such a great provision and they enjoy all the activities they can get up to. I suspect their favourite part of After School Club is teatime, especially when there are left overs from Clive. Ms Vincent and Mrs Tuma do a great job. I love being greeted with smiles and happy children!"
"Our little boy doesn't actually need to go to After School Club, he chooses to he loves the free flowing activities and the relaxed feel. It's perfect to help him wind down, thank you."
"I have been so impressed with Breakfast and After School Club from day one. The pupils are always greeted warmly by staff and can join their friends to choose their activities. The staff always have new and fun ideas for activities to do. I also like the fact that there are a broad age –range of children attending the group and the older children engage so well with the younger ones making the experience less daunting for them in the club and also in and around normal school hours. I believe the extra time, although a long day sometimes, can provide extended opportunities for pupils and helps them continue to build on their skills in Maths and Literacy after normal school hours. The pupil's appear very happy to and my daughter knows that she can speak to the staff confidently if she has any worries or concerns. Thank you"
"My son loves After School Club. They always have different things to do. It is usually a struggle to get him home!"