We have been working with other schools in the South and West Norfolk area in a partnership formally known as: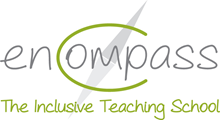 In partnership with the Encompass Teaching School Alliance led jointly by Hartismere Secondary School and Banham Primary School, we offer a supportive placement where students are able to develop and progress their teaching skills. Encompass also has the capacity to offer a period of time within a special school environment.
OUR INVOLVEMENT IN INTIAL TEACHER TRAINING
The Bawburgh School is a lead school offering QTS Tuition (with or without a PGCE) placements across a consortium of schools. We work very closely with Norfolk, Essex and Suffolk Teacher Training (NESTT) to provide high quality ITT which is predominantly school based.
Tuition Route
Trainees on this route are students and are required to pay tuition fees of £9250 to NESTT. You may be eligible for a tuition loan to pay for this and also a maintenance loan. To check, please see the Student Finance calculator on the GOV.UK web site https://www.gov.uk/student-finance-calculator
Both Salaried and Tuition routes offer:
high quality teacher training
a blend of teaching experience in schools informed by high quality centre-based training
training by experienced trainers many of whom are also classroom practitioners
Qualified Teacher Status (QTS) with the option of also taking a Postgraduate Certificate in Education (includes 60 Masters level credits)
very good employment prospects within local schools.
Our consortium schools are spread throughout Norfolk – please see list below.  If you have any queries then please visit the NESTT website for further information at www.nestt.org.uk
Please note applications should be made through DfE APPLY and not directly to the school.